CHALLENGE OF THE WEEK, MONTH, YEAR
I am learning to tie my shoes
(Open poster - I can tie my shoes) Print, laminate, and display at children's eye level. Provide children with shoes and shoe laces so they may practice. We have prepared a diploma you may reward them with once they succeed. (Open diploma - I can tie my shoes)
CIRCLE TIME
We has prepared an imaginary game to begin each day. (Open thematic letter - Mrs. Sock) Print the letter and place it in an envelope. Leave the envelope in an easy to find location within the daycare. Have children find it and read portions of the interactive story to them each day.
AREA SETUP
Transform your dress up area into a clothing area. For this theme, you will need used items of clothing such as: shirts, robes, socks, mittens, scarves, sweaters, dresses, belts, tuques, gloves, etc. Ask parents to contribute to your clothing area. They will be happy to provide items they no longer need at home. Use cardboard boxes to sort clothing by season or style. Hang a clothesline in the daycare. If you wish, you may hang clothing for a different season each day. Children will enjoy creating their own outfits. This is the perfect time to practice dressing up in winter clothing. For younger children, be sure to give precise instructions.

VARIOUS WORKSHOPS
Have fun with these wonderful workshop ideas provided by Caroline Allard.
Construction and building blocks:
Add pieces of fabric to your usual blocks.
Empty spools of thread are great for making original constructions of all kinds.
Drawing:
Clothing stencils for tracing and coloring.
Different types of fabric may be used for painting (paint with them rolled up, scrunched up, etc.)
Yarn may also be used for painting or collages.
White t-shirts (from the Dollar store) and crayons children may use to draw on them.
Role play:
Your kitchen corner becomes a laundry room. If you do not have a toy version of a washer and dryer, make your own using cardboard boxes. Provide a pile of clothing and children will love washing it!
A small toy iron and an ironing board are great fun too!
Hang a clothesline in the daycare and provide clothespins. Children will love hanging their laundry to dry.
A toy sewing machine or an old sewing machine which no longer works.
Manipulation:
Memory game with clothing pictures. You may even make cards shaped like sweaters or pants.
Memory game, lotto game, or any game involving clothing. You may associate a theme about seasons to the clothing theme and explore how our clothing needs vary according to the seasons.
Modeling dough and cookie cutters with various characters.
Lacing games for young children.
Weaving games adapted for children.
Reading and relaxation:
Books about various professions, invite children to observe the different uniforms.
A clothing poster.
Large blankets for added coziness.
Song box containing clothing-related songs.
Sensory bins:
Water table with dolls and doll clothing. Children may wash the doll clothing and hang it to dry.
Container filled with sand or cereal and figurines representing different professions requiring uniforms.
Science or kitchen corner:
Die pieces of white cotton using different items children know (red cabbage, mustard, frozen blueberry juice, etc.).
ACTIVITY SHEETS
(Open activity sheet - Clothing) Print for each child.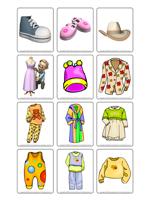 PICTURE GAME
The pictures may be used as a memory game or to spark a conversation with your group. Use them to decorate your daycare or a specific thematic corner. (Open picture game - Clothing) Print, laminate, and store in a "Ziploc" bag or in your thematic bins.
WORD FLASHCARDS
The flashcards may be used to spark a conversation with your group or in your reading and writing area. You may also use them to identify your thematic bins. (Open word flashcards - Clothing) socks, sweater, pants, shirt, tie, dress, skirt, pajamas, belt, shoe, jacket, sneaker
ACTIVITIES
Laundry duty
Divide the group into two equal teams. Provide each team with a laundry basket with clothes inside. Each team begins at its start line. One player takes an item of clothing and goes to its finish line to hang it on its clothesline using clothespins. The first team to finish wins.
I can dress myself
Collect shoes (with laces), blouses (with buttons and snaps), coats (with zippers), and other items for your group. Encourage them to develop their ability to dress themselves.
Hat memory game
(Open memory game - hats) Print twice and laminate. Glue the illustrations to the tops of frozen juice cans. Place them face down on the table to play.
Indoors and outdoors
(Open game - Indoors and outdoors) Print and laminate the two illustrations representing indoors and outdoors. Next, using the illustrations from the word flashcards, ask children which items of clothing are worn indoors and outdoors. Have them associate each word flashcard to the correct illustration using adhesive putty.
Pile of clothes
Place a large pile of clothes at one end of the daycare. Children run to the pile, put an item of clothing on, and run back to the start line. This is an excellent way to help children practice dressing themselves. If the item of clothing has buttons or zippers, children do the best they can.
Colorful feet
(Open - colored socks) Print the socks. Give each child a sock, making sure to give two children a sock of the same color. Call out a color and an instruction. For example, you may say, "Red socks meow like a cat." or "Yellow socks jump like frogs (a rabbit, or a kangaroo)".
A pair of socks
Use the colored socks (Open - colored socks). Glue them on cardboard and laminate. Like the traditional memory game, have children turn over two cards and attempt to find socks of the same color. Store this game in an empty shoe box and leave it in your quiet corner.
Clothespin race
Hang a clothesline between two chairs or walls. Give each player ten clothespins in a bag or container. When you give the signal, players attach their clothespins to the clothesline using only one hand.

Shoe hunt
Have children remove their shoes and place them in a pile. When you give the signal, children run to the pile and try to find their shoes as quickly as possible. Variation: You may have children put their shoes on and tie them too.
Fashion show
Organize a fashion show with clothing you made with the group during the theme. Name your show "The (daycare's name)'s collection". Invite children from other groups or parents to attend your fashion show. If you decide not to make the items of clothing in the arts & crafts section, you may invite children to wear their favorite piece of clothing or use clothing from your dress up box.
Fashion models
Children are two by two. One plays the role of a fashion model while the other is the fashion designer. Children select clothing items from your dress up box to create outfits for their model. Have the fashion designers present their creations to the group.
The clothing wand
Touch a child with your wand on his sweater, pants, socks...Have him name the clothing item you touched. Make the game more difficult by having the child name the color of the clothing item as well.

CULINARY ACTIVITIES
Create your own clothing items in cookie dough. Once cooked, decorate as you wish.
ARTS & CRAFTS
Crafted clothesline
Have children cut out clothing items they have colored (Open coloring pages theme - Clothing). Using clothespins, they may hang them on a clothesline. This activity may be done throughout the theme.
Mrs. Sock snake
Make a snake out of an old sock by stuffing it with newspaper scraps. Close the end with a piece of string. Glue wiggly eyes, a tongue, stripes, spots, or patterns using felt. You may even add tiny bells to make a rattlesnake. Have fun naming the snakes.
My silly shoes
Use two empty Kleenex boxes per child to make silly shoes. On either side of the opening on the boxes, make holes using a hole-punch to thread laces through. Let children decorate their shoes using art supplies.
My shoe
Have children bring an old shoe to the daycare. They paint and decorate their shoe. You may add eyes, feathers, buttons, etc. Display them on a shelf for parents to admire.
My sweater
Make holes for each child's head and arms in a brown paper bag. Have them decorate their sweaters using fabric and ribbon.
My pants
Using a large roll of paper, measure each child from his waist to his ankles and cut out both the front and back of a pair of pants. Staple the contour of the pants and cut a slit between each pant leg. Staple again. Have each child draw details on his pants.
My coat
Use garbage bags. Make holes for children's heads and arms. Next, make a slit for the head at the bottom of the coat. You may make fasteners out of pipe cleaners to tie the coats. Children decorate as they please.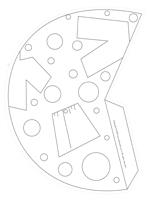 My hat
(Open model - hat) Cut out the pieces. Staple to assemble.
COLORING PAGES
(Open coloring pages theme - Clothing)
SEQUENTIAL STORY
(Open sequential story - Clothing) Print, laminate, and cut out. Children place the illustrations in the correct order.
SONGS & RHYMES
The Clothing Pokie
by: Patricia Morrison sung
to: The Hokie Pokie
You put your socks in
You take your socks out
You put your socks in
And you shake them all about
You do the clothing pokie
And you turn yourself about
That's what it's all about
You put your hat in
You take your hat out
You put your hat in
And you shake it all about
You do the clothing pokie
And you turn yourself about
That's what it's all about
You put your mittens in
You take your mittens out
You put your mittens in
And you shake them all about
You do the clothing pokie
And you turn yourself about
That's what it's all about
You put your sweater in
You take your sweater out
You put your sweater in
And you shake it all about
You do the clothing pokie
And you turn yourself about
That's what it's all about
Hat, sweater, pants, and shoes
by: Patricia Morrison sung
to: Head shoulders knees and toes

Hat, sweater, pants, and shoes
Pants and shoes
Hat, sweater, pants, and shoes
Pants and shoes
And belt, and scarf, and underwear
Hat, sweater, pants, and shoes
Pants and shoes
Have fun!
The Educatall team