CIRCLE TIME
Transform your circle time area so it resembles a campfire. Place a large container in the centre of the circle or use a small red carpet to represent the fire. Have your snacks around the fire. Pretend to roast marshmallows. Sing campfire songs, add instruments if you like. Dress up as campers.
SUGGESTIONS FOR DISCUSSION PERIODS
Have you ever gone camping?
What do we do when we go camping?
Where do we sleep?
How can we protect ourselves from the sun and from insects?

What type of insects can bite us?
What types of food do we eat when we go camping?
What kinds of animals might we see?

Vocabulary words: camping, firewood, fishing, tent, flashlight, rowboat, pedal boat, life jacket, lake, campfire
AREA SETUP
(Open thematic poster - Camping) Print, laminate, and decorate the walls of your daycare with all kinds of posters.
Set up a tent inside or outdoors. Hang a clothesline in the daycare. Hang Christmas lights or camping lanterns.
VARIOUS WORKSHOPS
Try these workshop ideas related to the theme.


Building blocks or construction area:
Add camping or animal stickers to blocks.

Give children blankets to make tents with the blocks.
Role play:
Arts & Crafts:
Glue, scissors, green paper, camping catalogues or magazines

Flyers with camping sections, children can create collages
Manipulation:
Pictures or a memory game related to the theme.

Modeling dough can be used to create campground models.
Reading:
Create an album using camping pictures

Books about forest animals, frogs, etc.
Music:
Sand and water table:
PICTURE GAME
The pictures may be used as a memory game or to spark a conversation with the group. Use them to decorate the daycare or a specific corner. (Open picture game - Camping) Print, laminate, and store in a "Ziploc" bag or in your thematic bins.
SOCIAL AND MORAL ACTIVITIES
Musical flashlight
Children sit in a circle and pass a flashlight around the circle while music plays. When the music stops, the child holding the flashlight receives a sticker or a hug from his peers.


Jumping frogs
Have children stand in line, one behind the other. They crouch down like frogs. The last child in line jumps over all the "frogs" and crouches down at the front of the line. The game continues with the player who is now last in line...

Cabin
Drape old sheets over furniture, tables, and chairs to make cabins or tents. Let children play in their cabins with flashlights, their favourite toys, and their friends.
CULINARY ACTIVITIES
Camping sausages
Using long forks, cook sausages over the BBQ.


Marshmallow cookies
Melt chocolate and marshmallows. Help children put the mixture between two graham cookies. Delicious!
MOTOR SKILLS

Leaf necklace
Collect leaves with the group. Use pipe cleaners or fishing wire. Have children thread the leaves to create nature bracelets or necklaces.


Camping races
Create an obstacle course using camping items. For example, have children hop while holding a flashlight, collect marshmallows along the way, etc.

Canoe
Have children sit on mats in groups of 2 or 3. Play music. Children hold on to the sides of the mat and swing from right to left to the sound of the music.


COGNITIVE ACTIVITIES
Hunt and seek
Have children sit in a circle and say, "I am looking for something blue and round!" The object must be visible from their sitting position. The first child to see the object says, "I found it!" He brings the object to the circle. If it is the correct object, he selects the next object and gives his friends a clue.
The raccoon
Place several camping items in a cooler. Some items you may want to include are a flashlight, a fishing rod, a bag of marshmallows, an egg carton, etc. Raise the objects one at a time and have children name them. This is the perfect occasion to explain how campers sometimes have small visitors that steal items. Remove one object from the cooler and have children guess which one is missing.


Surprise backpack
Fill a few backpacks with surprises which are sure to capture children's attention. Children will enjoy discovering a book, a colouring book, lacing objects, a puzzle, a puppet, blocks, or modeling dough in the backpacks.

I can't see anything!
Glue pictures under a table prior to children arriving at daycare. Cover the table with a thick blanket. Invite children to go in the "house" with a flashlight to observe the pictures. Once they have seen the pictures, have them give other children a turn. If they do not see the pictures, allow them extra time to explore. Once everyone has had a turn, have children describe what they saw. Children with incorrect answers may be given the chance to take one last look.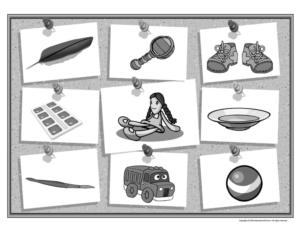 Picture hunt
(Open picture hunt) Hide picture doubles or objects represented on the pictures in the daycare. (example: a feather- hide the picture of the feather or a real feather). Children hunt for the items shown on the sheet.
I'm going camping and I'm packing...
Sit in a circle with the group. Say, "I'm going camping and I' m packing... (example: a flashlight). The child sitting next to you must repeat the same sentence, repeating the item you said and adding one of his own." Each child adds an item to the list.
ARTS & CRAFTS
Rowboat
Use large cardboard boxes to build rowboats. Allow children to paint their rowboats with poster paint. Set the rowboats on a large piece of plastic which represents water. Children will enjoy sitting in their rowboats and rowing using foam pool noodles. Let them bring along a fishing rod and a tackle box.
Fly swatter
(Open model - Fly swatter) Cut a 30cm x 10cm piece of heavy cardboard. Cut out two construction paper oval halves. You may use perforated rubber which is used to line drawers. Glue the two oval halves together at the end of the cardboard strip. Children can colour or paint their fly swatters.


Magical rocks
Go hunting for large rocks. Children can paint them using several colours of poster paint. When they are dry, children may use their rocks to play hopscotch.


Branches
Collect branches. Children can paint the branches using poster paint. Add sparkles. The branches may also be used as paintbrushes.


EARLY SCIENCE
Camping under the stars
Give each child a flashlight. Close the lights and curtains to make the daycare as obscure as possible. Children move about the daycare observing objects with their flashlights.


I hear something in the woods
Children lie down on the floor and close their eyes. Make a sound and ask children to guess what it could be. Hit the wall, snap your fingers, break a branch, crumple a leaf, whistle, tap your foot, imitate bear sounds, etc.
Painting with worms
Search for worms with the group. Collect as many as possible and store them in a covered container. Wash the worms under water. Dip the worms in various colours of poster paint. Next, arrange them on a large piece of paper and observe. The worms will wiggle across the paper, painting as they go. This will be an unforgettable experience! If you are unable to find worms outdoors, you may purchase some in certain hardware or convenience stores.


Mosquito hunting
Go on a mosquito hunt. Use your hands. Show children how mosquitoes can sting. Ask them what happens when a mosquito stings us and what we must use to avoid being stung.
ACTIVITY SHEET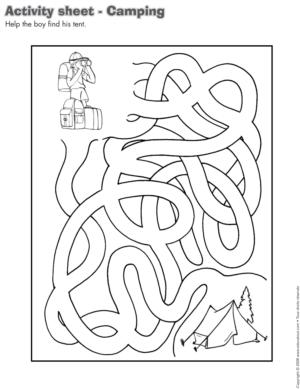 (Open Activity sheet - Camping) Activity sheets are suggested for each theme. Print and follow instructions.
COLORING PAGES
(Open coloring pages - Camping)
SPECIAL DAY
You can give children invitations for this special day.
Christmas in July
(Open perpetual calendar - Christmas in July) Print.
Greeting
Each child brings a gift and dresses in red, green, or white. Exchange gifts and talk about Christmas.
Lunch and snack
Christmas cookies, traditional Christmas meal (turkey, stuffing, etc.)
Activities
Celebrate Christmas in July...decorate the daycare with a Christmas tree and Christmas decorations, make a gift for parents, etc. Tap in to children's imaginations and ask children what they want for Christmas. Pretend it is Christmas Eve. Let children wrap toys found in the daycare with wrapping paper and ribbon. When they are done, have them unwrap the "gifts".
Day at the beach
If you do not have a beach nearby, organize a day at the beach in your backyard. Simply use your sandbox, a small pool, small plastic chairs, etc. Allow children to add water to the sandbox to make sand castles. Play in your lake (the pool). Have a picnic lunch.
NAPTIME SUGGESTIONS
Sleep under the stars
Have children nap in a tent. Glue glow in the dark stars, a moon, and planets to the tent's roof using adhesive putty. During naptime, children pretend to sleep under the stars. Ask parents to provide sleeping bags for this special nap.
SONGS AND RHYMES
Here we go camping
by: Patricia Morrison
Sung to: Here we go 'round the Mulberry Bush
Here we go 'round our big yellow tent
Our big yellow tent, our big yellow tent
Here we go 'round our big yellow tent
We're sleeping in it tonight
This is the way we roast marshmallows
Roast marshmallows, roast marshmallows
This is the way we roast marshmallows
Carefully over the campfire
This is the way we observe the stars
Observe the stars, observe the stars
This is the way we observe the stars
It's such fun to sleep outdoors
The itsy bitsy mosquito
by: Patricia Morrison
Sung to: The itsy bitsy spider

The itsy bitsy mosquito flew around my head
I used my repellent to scare him away
I thought he had gone far away, HOORAY!
But the itsy bitsy mosquito stung me anyway
Have fun!
The Educatall team